Dr.Lokesh Kumar,M.S.,M.Ch
Senior Plastic and cosmetic Surgeon, working at Apolo Hospital,N.Dehi.He is working on Anti Ageing and Mesotherapy .
---


Dr.Gaumat
Senior Surgeon,working at Ghaziabad for lat 25 years.As a hobbiest,has developed water filtration system with the use of activated Carbon fabric for stored water in large indoor water bodies(Aquariums),specialiy ment for growing aquatic Ornamental and medicinalwaterplants.
---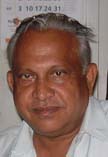 Dr.Surendra Singh ,Senior Paediatritian,
working at Hapur for last 40 years.He is a great plantlover,encyclopedia of Variegated plants, Palms,Ficus and Cacti .


---


Dr. Akhilesh Tyagi
Senior Scientist,working on Tissue culture and Microprpogation for last 20yrs.